Our Story
Indo-European Chamber/Youth Orchestra is a maiden Orchestra from India, formed by Internationally known Indian Conductor and Composer Michael Makhal. The orchestra was launched at the Hyderabad Autumn International Music Fest Concert in October 2018 under the batons of Maestro Makhal and the co-founders of the fest, ace musicians from Europe Maestro Alessandro Viale (Italian Pianist & Conductor), Rebecca Raimondi (Italian Violinist), Urška Horvat (Slovenian Cellist) along with the troupe of very talented Indian musicians. The ensemble performed in the grand finale of the 1st Autumn International Music Fest & Masterclasses Hyderabad before a packed audience at the Ravindra Bharathi Auditorium. The Press and Critics both have been very generous in appreciating the orchestra and the performance.
The primary goal of the Indo-European Chamber/Youth Orchestra is to bring together talented Indian Western Classical musicians from different parts of the World under one terrain and perform concerts collaborating with Western Maestros, students, and performers at prestigious fests and reputed venues in India, Europe and all around the globe.
The Orchestra's USP: The ensemble not only performs the greats like Mozart, Bach, Vivaldi, and Beethoven, but the orchestra has a unique repertoire that includes Raaga based music precisely written for Western Classical styled orchestras, artists, and ensembles by Maestro Makhal – who already has an admiring and loyal audience for his music in the USA, UK, Italy, and India. The orchestra is managed by Michael Makhal Symphony Orchestra.
The Grand Budapest Concert at Festetics Palace 2022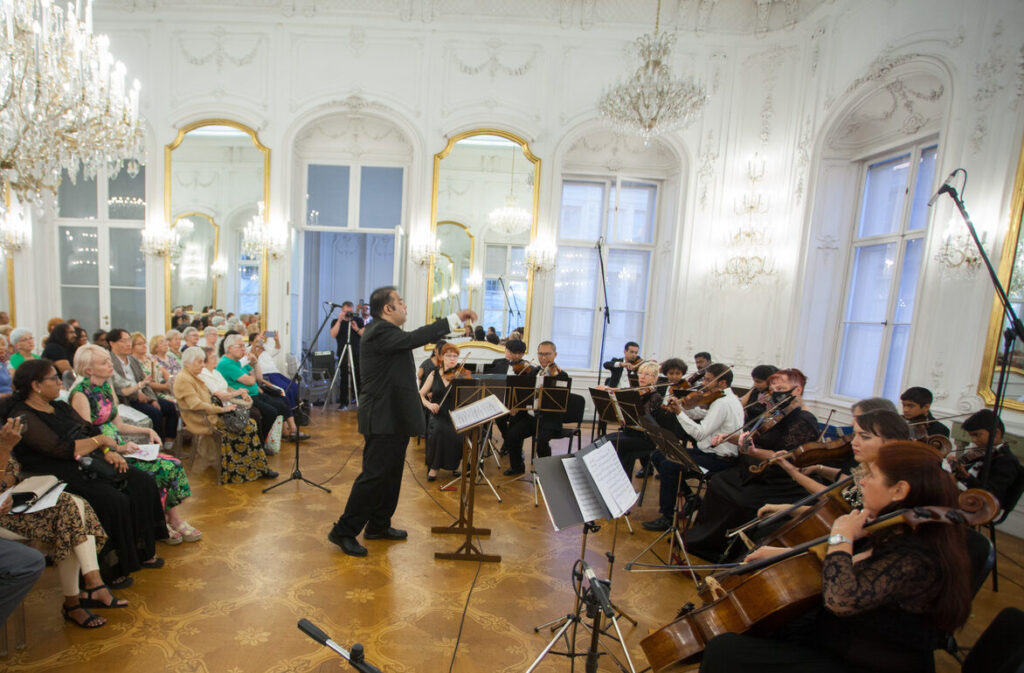 In 2022, we had our 2nd edition of the Grand Budapest Concert at the Festetics Palace on 14th August. Indo-European Youth Orchestra (IEYO), an ensemble of its own kind, performed in Budapest with selected talented musicians from different parts of India, and also, citizens of the USA, Australia, South Korea, and Hungary. It goes without saying, Indo-European Chamber/Youth Orchestra has successfully made a mark for itself on the map of global chamber/youth orchestras. Our young musicians indeed came back home with a treasure of knowledge, experience, and motivation unparallel to anything. We are extremely glad for the contribution we could make to the lives of these young performers. The concert at the Festetics palace this year was as thrilling for the audience as for all the musicians, everyone enjoyed it from their heart and the audience showered applause generously. We have performed the immortal compositions of legendary composers namely, Edgard Elgar, Antonio Vivaldi, WA Mozart, Sir Karl Jenkins, and Gustav Holst as well as Indian-style pieces of Tagore and Michael Makhal. Last year we also had the prestigious invitation to perform for Azadi ka Amrit Mahotsav at the ASCC – Embassy of India (Hungary) in celebration of India's 75th independence year. it was an honor for every member at IEYO.
We are thrilled to announce that, we are preparing for the 3rd edition of our Grand Budapest Concert in Budapest, Hungary in August 2023. The Indo-European Youth Orchestra will once again enthrall the audience of Budapest with a great lineup of extraordinary pieces that include (tentatively) the work of Dvorak, Tchaikovsky, Bach, Elgar, Mozart, Tagore, Michael Makhal, and more. And, for the first time, any Indian chamber orchestra will perform at the very prestigious Royal Palace of Gödöllő. 
Young musicians always learn the best when they perform with orchestras, they get inspired by their fellow musicians and get motivated to do music with a true passion. Our main goals for this concert and workshop project are to inspire young talents to fall in love with music and do music to the best of their ability, also, gain invaluable experience from playing in an international concert with musicians from different parts of the world including professionals, and be more confident, creative and also, get trained to be a great team player. 
Voyage to Europe 2019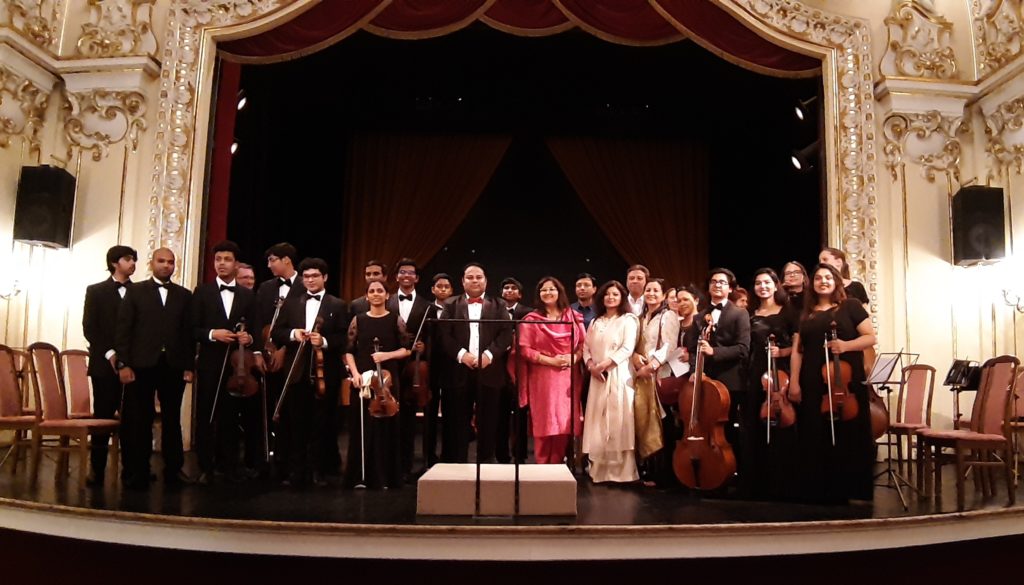 Indo-European Chamber/Youth Orchestra – probably the first Western Classical Music Orchestra from India, that performed in Europe. We are very happy to share with you that, we had a very successful concert at the Danube Palace in Budapest, Hungary on 18th Aug 2019. We had a packed and extremely enthusiastic audience who clapped and hummed with us and treated us with multiple curtain calls and long applause.
The Cultural Director of the Indian Embassy in Hungary Ms. Tanuja Shankar graced the concert along with her colleagues. We had 4 talented young as well as seniors from Delhi, 3 of them are students of the Delhi Scool of Music Aryam Samaria, Parth Sarthi, and Rahul Baswal, and the other one is the Violin teacher in DSM Pramit Biswas. We had  3 Hyderabadi musicians, in fact, the youngest members of the orchestra were from Hyderabad Varun Venkat Lanka 13 years old, and Tanish Samanta 14 years old the other member from Hyderabad was Veda Vidya Somanchi who works in TCS.
We brought together Indian talents from around the globe.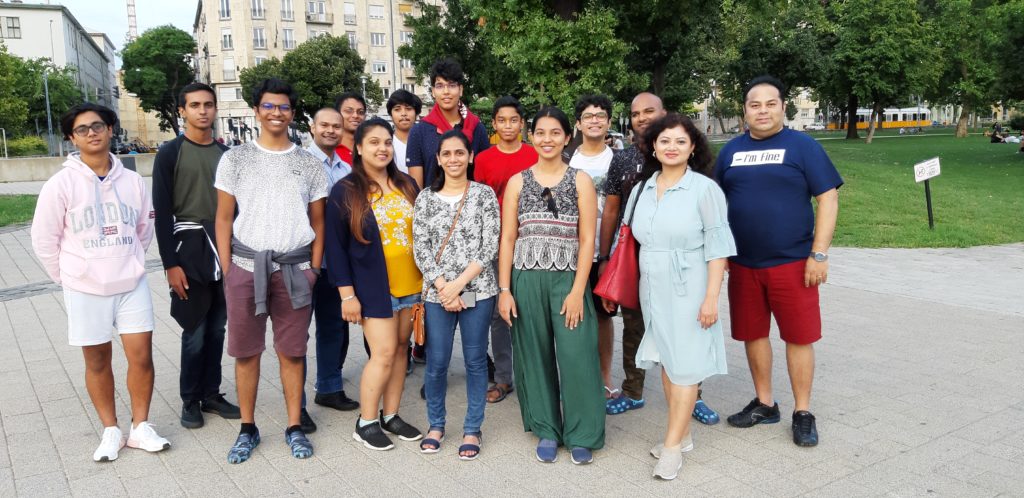 We had 2 members from Mumbai Anish Sharma and David Menezes, accomplished young Violinists. In the Viola, we had the Viola sisters from Bangalore Gabriella and Michelle, Gabriella teaches at the Bishop Cotton School. We also had 2 members from US, amazing Indian-origin Saxophonist Aniketh Mukhirala and a fantastic Cellist Param Mehta, both are from Tallahassee, Florida. We also had a wonderful Indian Portuguese Violinist from UK, Joanro Gomes. And, our young concertmaster was from Kolkata, Apratim Nayak.I also like to add that, we had 8 amazing Hungarian musicians with us in the orchestra and some of them are members of the prestigious Danube Symphony Orchestra.
We believe, we can contribute to the Classical music World in a unique way, by blending Western Classical & Indian music repertoire and presenting something new and different to the global audience of orchestral music. – Michael Makhal