The Concert at Festetics Palace – August 2022
Indo-European Youth Orchestra is probably the first Western Classical Chamber/Youth Orchestra from India that performed in Europe. IEYO's first concert in Europe was held in Budapest at the Danube Palace hall on 18th August 2019.
IEYO brought together an ensemble of young and advanced musicians from different parts of India, including nationalities of India, Hungary, Australia, South Korea, and the United States for the second edition of the Grand Budapest Concert this year on 14th August 2022 at the prestigious Festetics Palota in Budapest, Hungar. The ensemble consisted of instrumentalists: '1st Violin and 2nd Violin sections, Viola, Cello, and Santoor.'
The concert and workshop project took place in Budapest from 9th Aug to 14th Aug 2022 culminating with a Gala Concert on 14th Aug at the Festetics Palota under the baton of internationally known Indian composer and conductor Maestro Michael Makhal (Director of Music at IEYO). The young and adult musical talents had been selected through auditions from Mumbai, Hyderabad, Vellore, Kolkata, Aizawl and Bengaluru for the concert, which includes Indian, American, Australian and South Korean citizens. Also, one Indian American NRI member was selected from Tallahassee, the United States.
This year we had two concerts in Budapest, Hungary. One, at Festetics Place and another at the ASCC, Embassy of India for Azadi ka Amrit Mahotsav. Our Indo-European Youth Orchestra (IEYO), an ensemble of its own kind, performed in Budapest with highly talented young and adult musicians. We had father and son Violinists in the ensemble, something very rare to see worldwide. We had young soloists from Hyderabad, students of the Art of Violin Hyderabad. Two wonderful young violinists from Mumbai, students of Troika Music School. There was a wonderful blend of students and professionals both. Our lead Violinist was from Mizoram, a highly skilled player. There were six professional Hungarian guest musicians who played with IEYO in both concerts, making it a true event of upholding friendship and spreading joy through music. Moreover, well-known Kolkata-based Santoor player Debanshu Sen, a student of Ustad Aashish Khan ji was part of the orchestra too in this year's concerts in Hungary.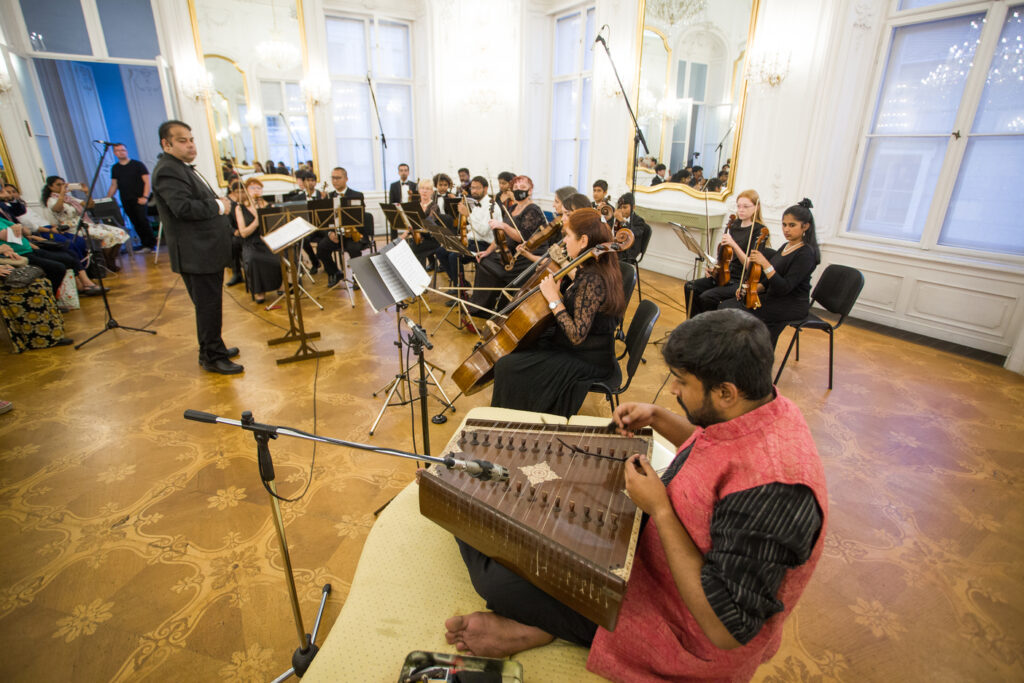 Director's Thoughts
Maestro Michael Makhal: "Indo-European Youth Orchestra is a very unique Orchestra, two of the major specialties of our ensemble and performances are that we prefer to involve a small team of local musicians of the visiting country in our concerts and we perform Western classical music as well as Indian music both, spreading the message of joy and unity through our performance and making it a very meaningful endeavor. We hope to have the opportunity to perform around the world. We are glad to be able to resume our remarkable collaboration again after the gap of two years due to the pandemic. We hope the saga will continue ceaselessly and we will be able to carry our music and represent our incredible nation India to every corner of the world."
The Musicians of the Orchestra
In our second edition this year in August 2022, Indo-European Youth Orchestra had very dynamic young talents in the ensemble – the lead Violinist of the Orchestra is Brengle Lalhimpuia from Aziwal, Mizoram. We had very talented two students from Mumbai Vitthal Prasad and Doyun Kwak of Troika Music School. There were 8 very talented Violin students of Mr. Makhal's tutorial – Art of Violin from Hyderabad, Bengaluru, and Mumbai- Suraj Subramaniam, Varun Venkat Lanka, Omkar Sinha, Nagapushpika Reddy, Swarna Pushpika Reddy, Laila Williams, Maria Shebu, Hrishikesh Barua. Pushpika and Varun were the soloists and played the celebrated Violin concerto for 2 Violins by Antonio Vivaldi. We also had a professor from Vellore Institute of Technology, Dr. Christopher Clement who played the Violin along with his son Akassh Clement. All these talented ones wrote history on European soil on 13th and 14th August 2022, just a day before the 75th Independence Day of India. IEYO began the concert with our orchestral rendition of the National Song of India 'Vande Mataram' followed by the Hungarian Dance No. 4 compsed by Johannes Brahms.
Members of the Indo-European Youth Orchestra 2022
The Goal
The primary goal of the Indo-European Chamber/Youth Orchestra is to bring together talented Indian Western Classical musicians from different parts of the World under one terrain and perform concerts collaborating with Western Maestros, students, and performers at prestigious fests and reputed venues in India, Europe and all over the World.
Orchestra's specialty – the Repertoire
The ensemble not only performs the greats like Mozart, Bach, Vivaldi, and Elgar, but it has a unique repertoire that includes Raga-based music precisely written for Western Classical structured orchestra by Maestro Makhal – who already has an admiring and loyal audience for his compositions in the USA, UK, Italy, and India. Maestro Makhal's latest work for Santoor solo and String Orchestra – 'Suswagatam' will have its World premiere in this concert in Budapest. The Orchestra also has a guest composer and arranger from Kolkata Arup Paul, who is known for his western orchestral arrangement of Rabindranath Tagore's songs, has arranged the famous Tagore Song 'Jodi tor dak shune keu na ashe' for this concert.
Formation Story
Indo-European Chamber/Youth Orchestra was first formed by Michael Makhal in 2018. The orchestra was launched at the Hyderabad Autumn International Music Fest Concert on 28th October 2018 under the batons of Maestro Makhal and the co-founders of the fest, ace musicians from Europe Maestro Alessandro Viale (Italian Pianist & Conductor), Rebecca Raimondi (Italian Violinist), Urška Horvat (Slovenian Cellist) along with the ensemble of very talented Indian musicians. The ensemble performed in the grand finale of the 1st Autumn International Music Fest & Masterclasses Hyderabad before a packed audience at the Ravindra Bharathi Auditorium. The Press and Critics both have been very generous in appreciating the orchestra and the performance.
If any of you are still not part of our social media pages, you are missing out on all our amazing updates from the Hungary trip 2022. Please click on the links below to join us in our journey. We have also attached a few photos from our trip for you to this email as well.
Register for the Audition 2023: Google Form
Follow Us
Our YouTube Channel: Click Here
Images from the IEYO Concert in Budapest, Hungary 2019